Multi Factor Authentication (MFA)
What is multi factor authentication or MFA?
Multi-factor authentication (MFA) is a security method we use to keep your Vault secure. MFA can block over 99,9% of account compromise attacks. By combining multiple factors of authentication, access control security is tightened. 'Multi' is often replaced by the number of factors, for example two-factor authentication.
Vault users can choose to use from following three authentication methods to comply with the MFA requirement when registering or logging in to the Vault:
via an authenticator app (recommended)
via an SMS message
via a phone call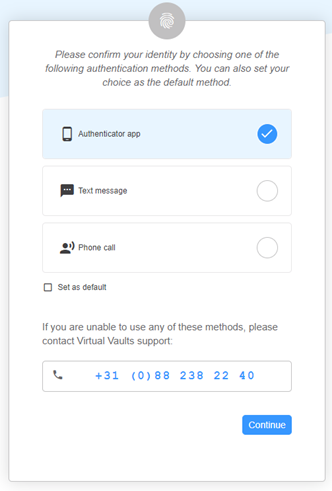 Security Tip: When setting up the security level of a Vault, Vault Admins can choose between the default or the strict MFA setting. This determines whether users need to authenticate via their MFA once (default) or on a daily basis (strict) on their device(s). Visit Change security level, to learn more about it.