Sorting and ordering questions as a Q&A Admin
How to sort and order questions as a Q&A Admin?
Virtual Vaults Q&A functionality offers a different set of possibilities to sort questions. In this article you will learn more about the different options you have when filtering and ordering questions.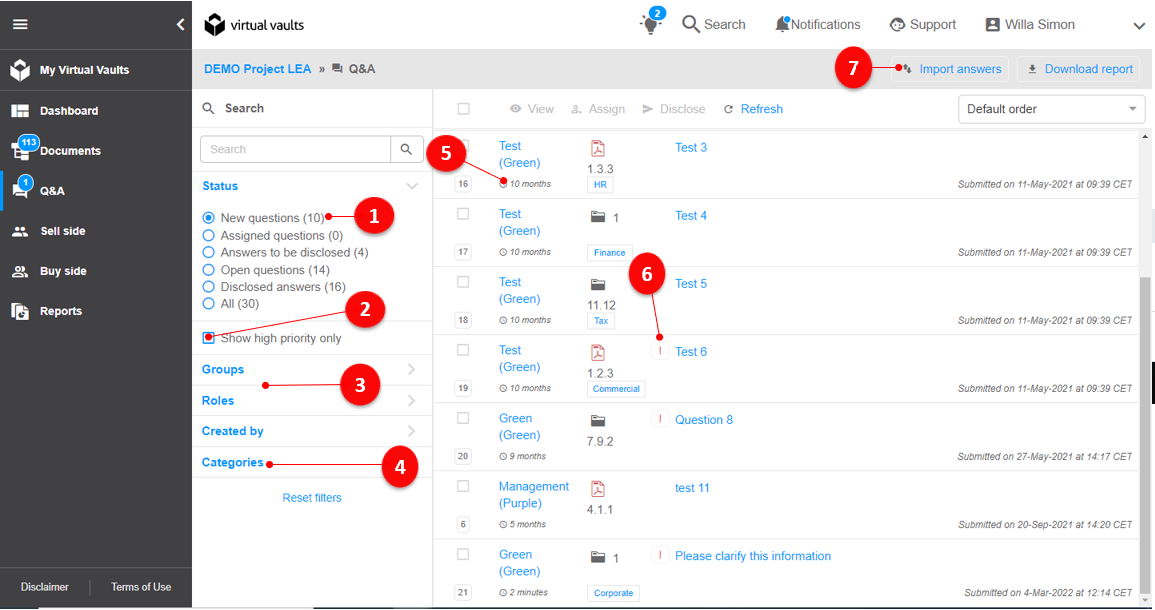 The image above indicates the alternatives that are available in the Q&A overview. Below you find an explanation of each of them.
1. New questions: All submitted questions that have no (drafted) answer or have not been assigned to an Answer Drafter. You can choose to select another viewpoint. Open questions give you a clear overview of all questions that have no disclosed answer.
2. High priority: By checking this box only the questions marked as high priority will be shown. High priority can be indicated by the user asking the question.
3. Groups and Roles: Sort questions by the roles and/or groups.
4. Show Categories: This filter shows the categories that have been created by a Q&A Admin.
5. Time open: Shows how long a question has been open. Once the question has been answered, this timestamp will disappear.
6. Icon: This area between the reference and the question can indicate multiple things. An exclamation mark shows a high priority question, whereas a chat icon shows that there is an internal chat active for this question.
7. Question order: The questions in the selection can be ordered in different ways. The default order, by ID (low/high), status or by open longest.