Office 365 viewer for Excel
What is the Office 365 viewer?
The Office 365 viewer enables all users to view Excel files in the Vault in its original format as they would locally. Additionally, guest users can be granted the permissions to privately edit Excel files in an online personal copy.
All work is carried out in a cloud storage: no file or data is downloaded. Users work more conveniently, while Vault Admins keep maximum control of their data.
1.

Click Set permissions at the buy side role you want to set up the Office 365 viewer for.

2.

Decide whether you want to keep it enabled or disabled. It is enabled by default.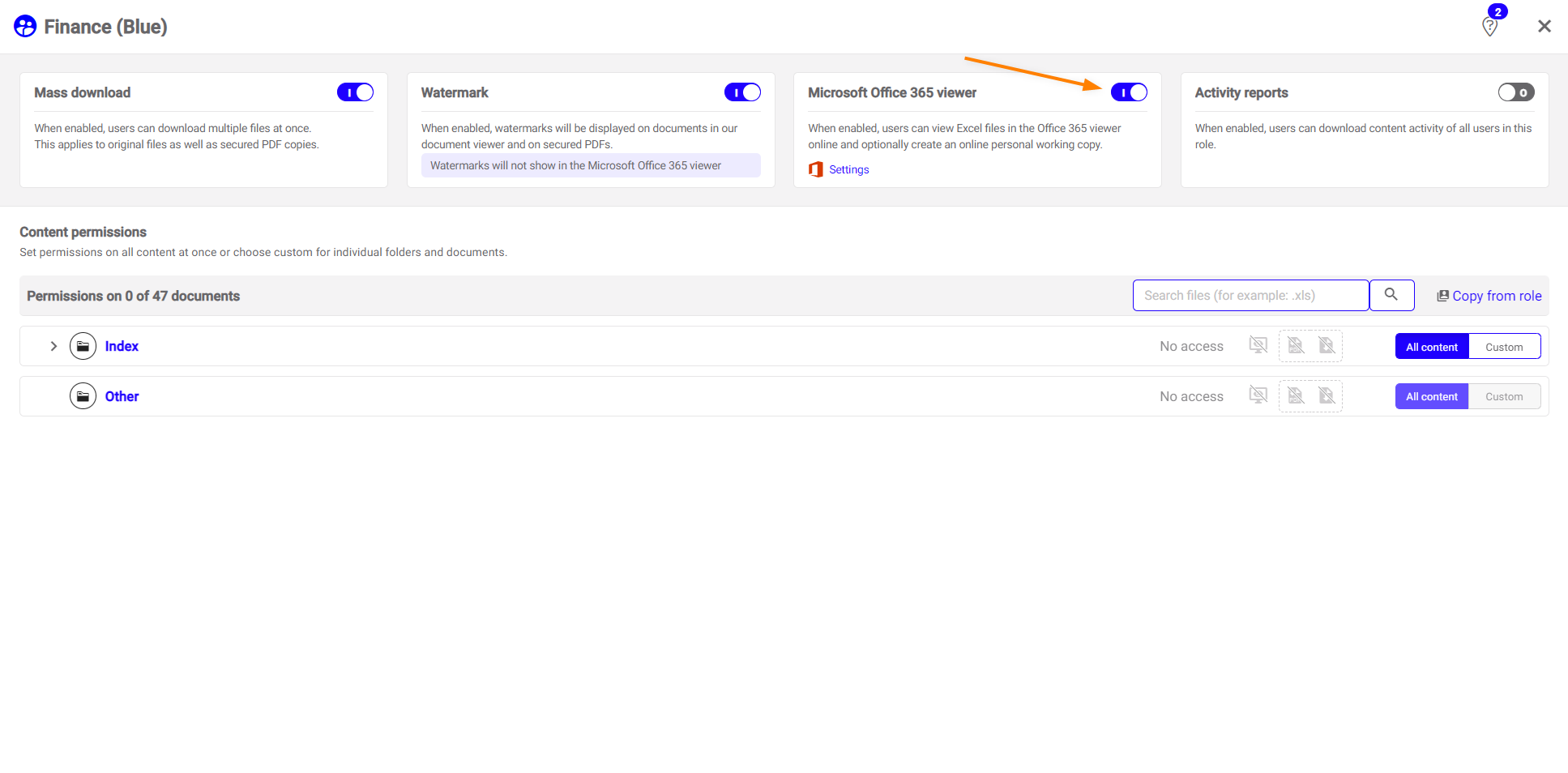 3.

Click Settings to choose between

View

or View & Edit permissions. Below you will find what is possible with each setting.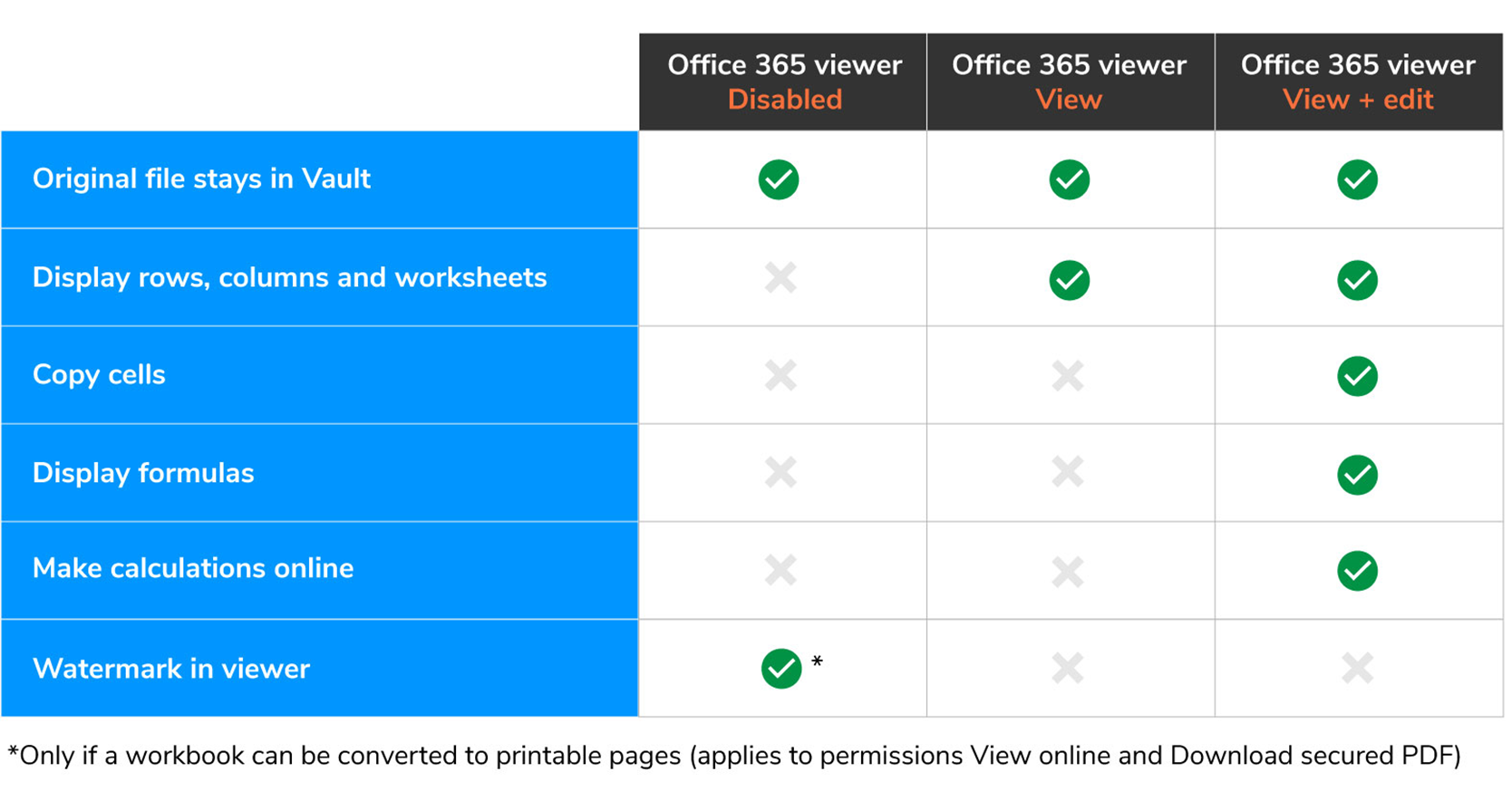 Visit our FAQ's section

about creating personal copies in the Office 365 viewer if you want to learn more about it.
4.

Click OK

and save the chosen settings from your permissions screen.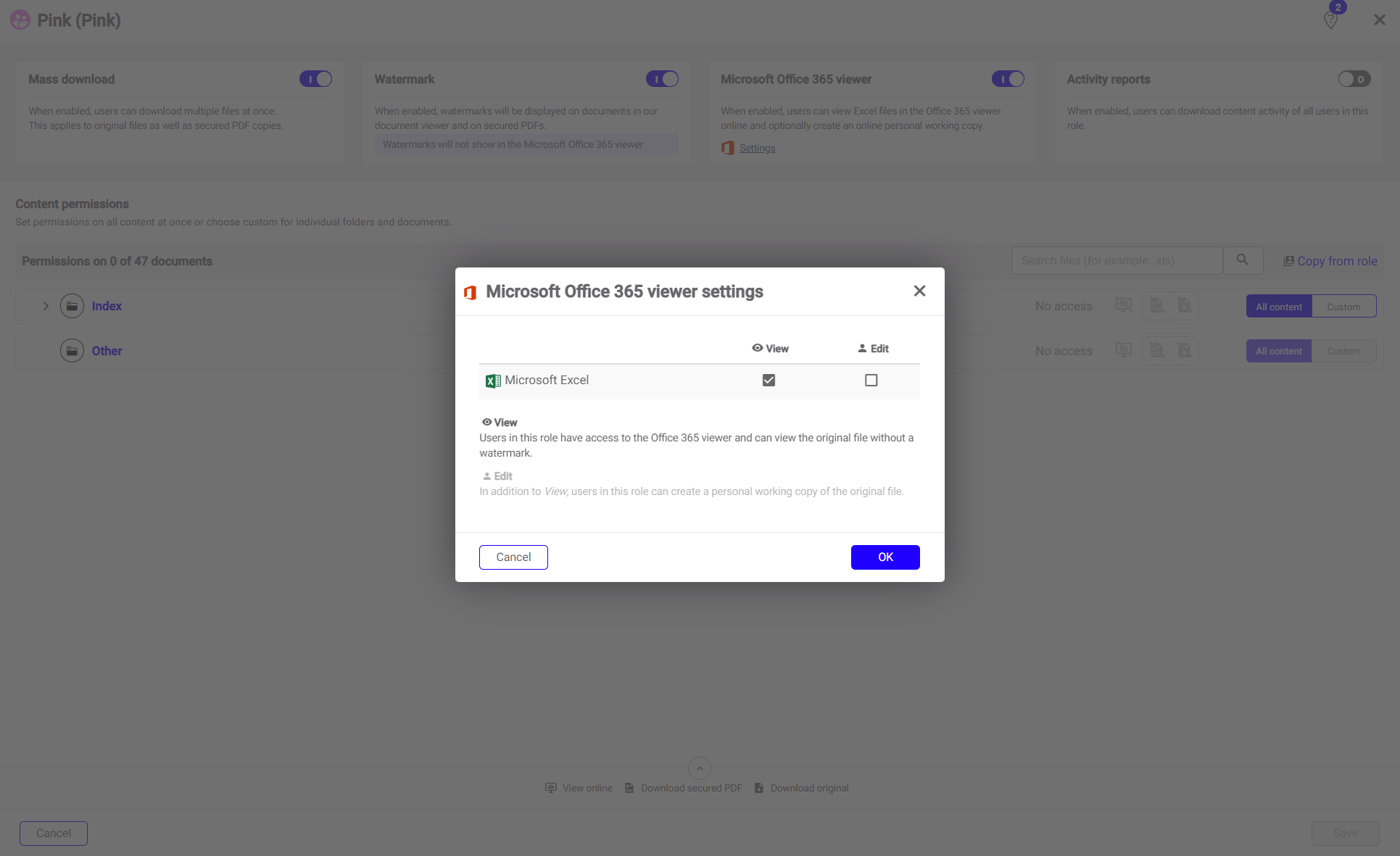 Advantages of using the Office 365 viewer:
Guests view Excel files in their original format online


Guests read Excel files in their original format with full Excel functionality and potential. They can see all values in all cells, tabs, columns and rows. Guests can select and deselect values and fields when the original file contains a filter or pivot table. Potential buyers can do a quicker

due diligence

in Virtual Vaults without being hindered by unreadable Excel documents.

Keep control over the original file




Because Guests can work online, Vault Admins do not need to grant 'Download original' permission on Excel files. When the Vault is closed or the user role or group is deactivated, users will not have the original file saved to their computers.

Keep track of engagement via Insights
Since Guests work online, Vault Admins can keep track of the user's level of engagement. The more the Guests work online, the more this will reflect in the Insights graphics giving Vault Admins a perfect overview of Guests' activities and engagement.

No need for deviating permissions


Vault Admins don't need to grant Download original permission on Excel files any more. Choose the permission setting of your preference for all content in your Vault. Upload your documents, set the permissions, and go live!

Guests can make their own calculations


Guests can do an even quicker due diligence by creating an online personal copy to make their own calculations. By granting Edit permissions, Guests can see underlying formulas in the Excel sheets. If you have questions about the personal copy, visit our FAQ's section about this topic.
Note

: The viewer uses Excel Online, so users can view Excel in its original format. Excel Online uses a 25 MB file size limit for workbooks. When an Excel file exceeds the file size limit, users will automatically be redirected to the PDF version of the file. In this case, Vault Admins can either grant Download original permission on those Excel files or reduce the file size of the Excel spreadsheet. Read more on Microsoft's website on how you can reduce a file size.