Create a Buyer group
How to add or create a new buyer group?
To create a new buyer group, follow the steps below.
1. Login to your Vault, navigate to Buy side and click on the New buyer group button.
2. Create a group with one or multiple roles.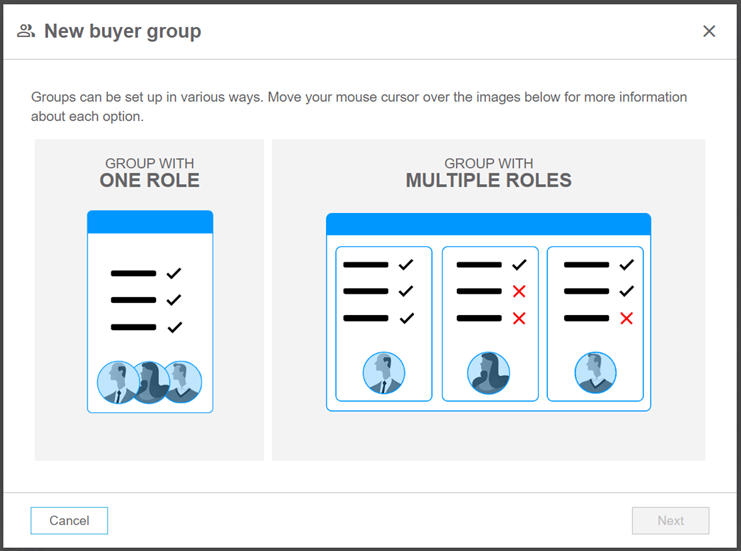 Using buyer groups with multiple roles:
If all users in the group can have the same document permissions, you can create a Group with one role. However, to keep your Vault organized we advise using a group with multiple roles.
A Group with multiple roles can be used if you need to create roles with deviating permissions in one buyer group. The advantage of multiple roles is that users can see the Q&A activities of users of a different role, as long as these users have permissions on the question reference.
3. Determine the group and role names. In the example below, there is a split in a clean team and a non-clean team.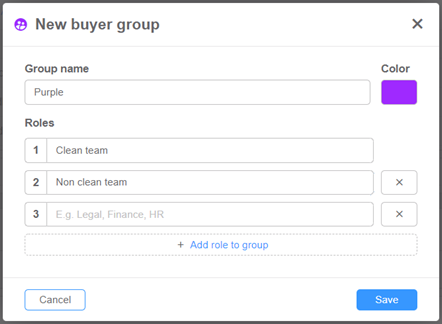 Note: The group name is not disclosed to the users in the buyer group, but will be visible in the reports and comfort letter of the closing archive. Therefore, you can choose to use code names. In the example above, the group name is 'Purple'.
4. Select a color for your group. A group color can be used for your own clarity. The group color is only displayed in the role overview.
Role Tip:
Make sure you set the permissions for the role before inviting users. Be aware that users will only be able to run activity reports if the permission has been granted. Visit Set permissions to learn all about performing this action.