Setting question limits
How to set question limits for buyer groups?
As a Q&A Admin you are able to control the number of questions each buyer group submits per day, per week or in total.
Note: You will be able to perform this action, only if you are a Q&A Admin who is Vault Admin too.
To set the question limits per buyer group, use the steps below:
Log in to your Vault, navigate to the Q&A section and click on the Settings button on in the top right corner of the screen.

1. In Settings, switch the toggle for the Buyer group you want to set the limits for.
2. Specify the number of questions, and optionally how many can be high priority.
3. Define the time frame. Choose between Total, Week or Day.
4. Choose Apply to all when you wish to copy the settings to all buyer groups.
5. Select Save.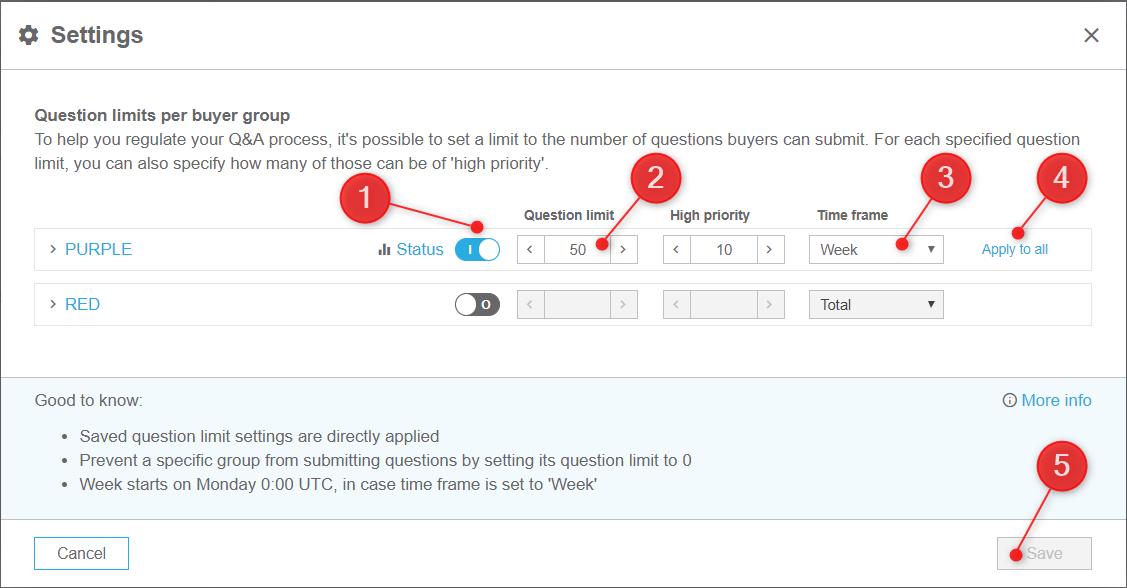 Do you want to learn more about using this feature? Read below to get the most value of setting question limits.
Things you should know about question limits:
Checking status of a buyer's group question limit: Select Status next to the toggle of the Q&A Settings screen.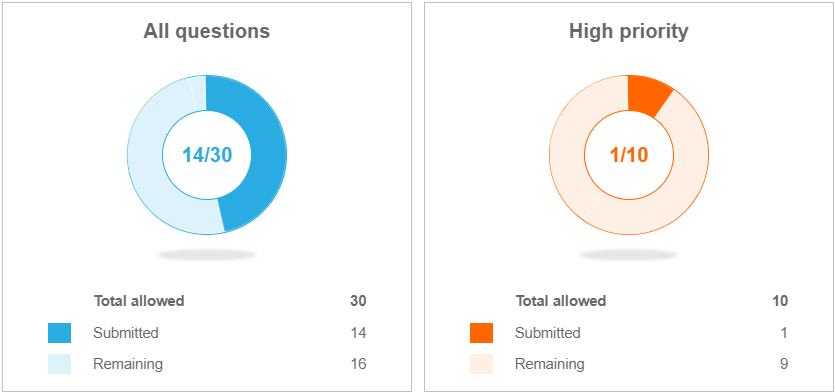 Toggled is off: When the question limit for a buyer group is toggled 'off', there are no limits to the amount of questions they can submit.
Freeze the Q&A: When the question limit for a buyer group is 0, they cannot submit new questions to the answer side. However, answers to previously submitted questions can still be disclosed.
Lowering question limit: If you change the question limit to a lower amount than the buyer group has already submitted, no questions will disappear from the buyer group's Q&A. This will just mean they will not be able to submit new questions until the end of the specified time frame.
When the name of the group is not hyperlinked, the group does not contain multiple roles.
Changes to the limit settings are saved, these are directly applicable.