Reopen a Vault
How to reopen my Vault?
It is possible to reopen the Vault up to 30 days from the day it closed. Vault Admins can reopen the Vault themselves within 14 days after closing. Please check the status of the subscription (Non-Renewing or Canceled). This can be found by opening the subscription details via the three dots in the top right corner of the Vault tile in My Virtual Vaults.


Subscription is non-renewing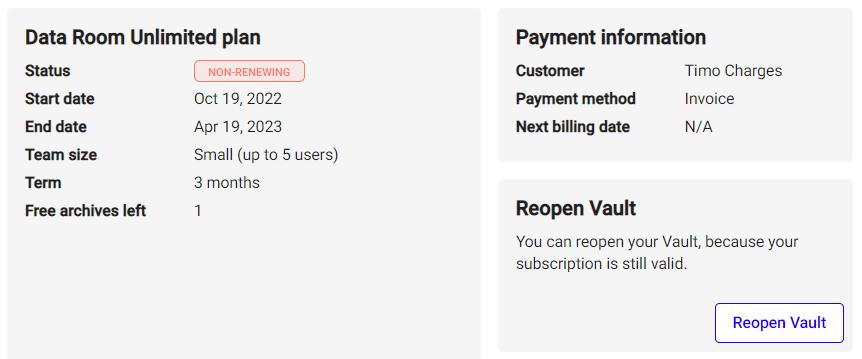 When a Vault has a non-renewing subscription, the Vault Admin can reopen it within 14 days after closing the Vault. The Vault will be active again with the remaining term that is left. The subscription will automatically renew after the End date and a new invoice will be send for another term. Click Reopen Vault and the Vault will open immediately.
Please keep in mind when the Vault reopens:
Every user that previously had access to the Vault will get access again. However, they will not receive a notification about this.

If the Vault needs to be reopened for a small action (e.g. the download of an index report), make sure to close the Vault before the subscription ends, otherwise a new invoice will be sent.
Subscription is canceled or 14 days passed since the Vault closed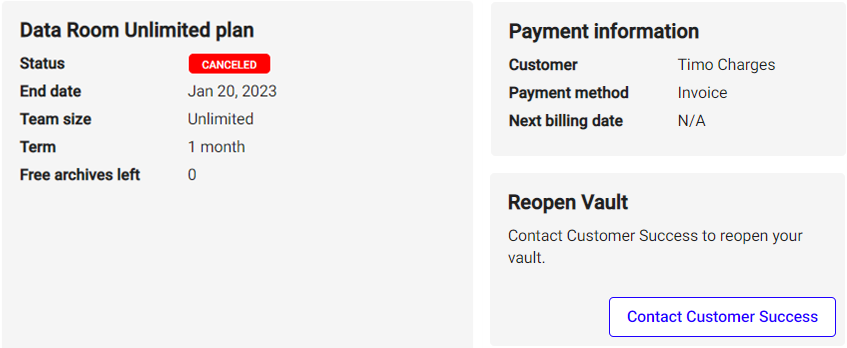 Vault Admins cannot reopen the Vault themselves if the subscription is canceled or 14 days have passed since the closing of the Vault. Send a request to our Customer Success team and they will reopen the Vault.

By reopening a Vault with a canceled subscription, a new subscription term will start and an invoice will be sent, based on the term length and team size of the canceled subscription.
Note: We delete the data from our servers after 30 days it has been closed and reopening will not be possible anymore.