Create your own organization
You received an invitation email from Virtual Vaults registration to create your own organization.
By creating an organization you will allow yourself and any colleagues within your organization to use the latest addition to our platform; Workspaces.
Work faster, smarter and easier with Workspaces on the preparation of your deal.
How to create your own organization?

You received an email that looks like the one below: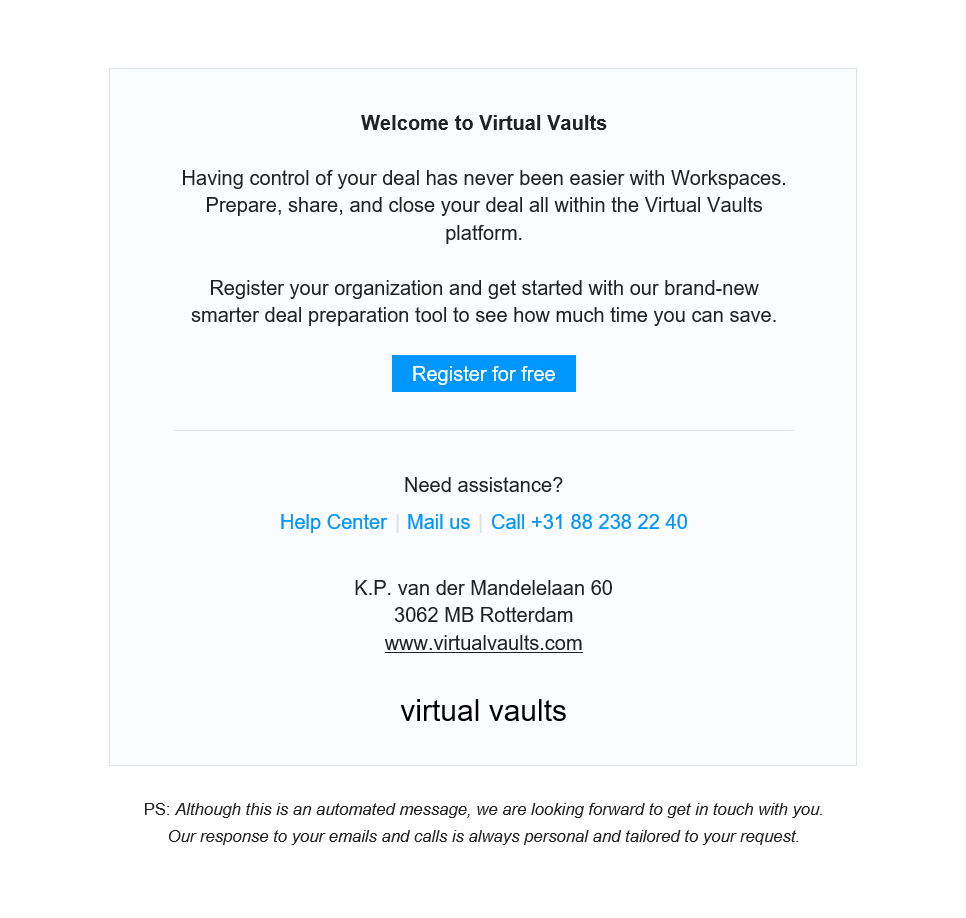 Click on "Register for free" to get started.
After registering or logging on to the Virtual Vaults platform, you will land in your Dashboard. If you are a recurring user, you will find all your accessible projects here. Now on top of your dashboard, the following banner will show:

Click on Organization and the first step will be to select your subscription plan. For instance, the Pro Essentials plan, which is currently also the only plan we offer in the trial phase.
Your plan includes several features to use in Workspaces but also the capacity.
After selecting your plan you are asked to accept the terms & conditions. Check the box and click on "Accept".
You can download a copy of these terms to your computer for safekeeping.
Fill out the information of your Organization;
1. The name of your organization - A referral to your company is recommended.
2. Organization ID - the ID will be displayed in your organization's URL.
3. Customer success access to provide support when needed - yes or no?

Invite up to 3 colleagues already to your organization, who can also invite other colleagues to the organization and who can also create Workspaces.
Additional colleagues can be added after creating the Organization.


You can select the option above if you want users with the same email domain, to be able to join your organization without permission.
Be aware if you use a personal email address yourself (Gmail, Outlook), that anybody with this email address can join.
Click on "Next" and get an overview of your chosen organization details, invitees and your subscription plan. Is everything as you wish and the information is correct?
Click on Confirm and your organization will be created!
Note: When you have created the organization, you will automatically be the Organization Owner. This means you can see all the Workspaces in your Organization, remove users and edit the billing details.