Your data collection
How to get started with your first data collection?
Every project begins with a data collection.
There are 3 different ways to build a collection: use a template (existing or new), upload folder structure or create a list manually. In this article you will learn about each of these alternatives.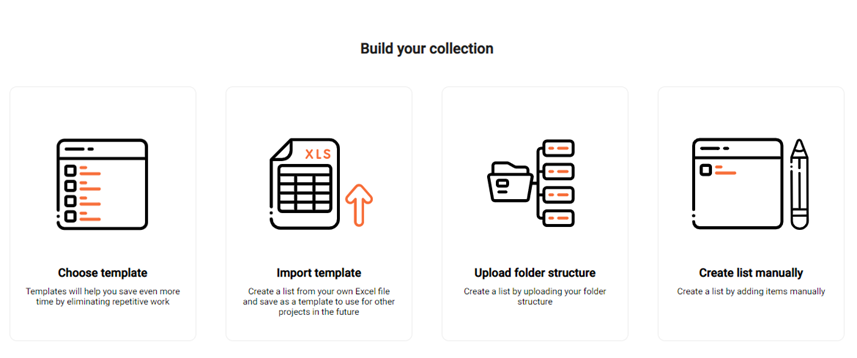 Use a template
Admins can either create their own template or choose an existing one. Use templates to standardize your workflow, saving time and eliminating repetitive work.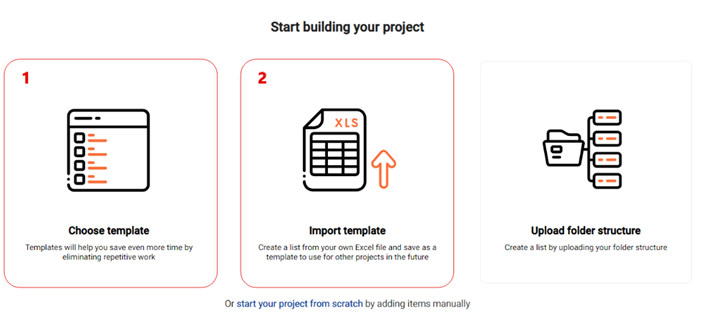 1. Choose template
If one of your colleagues has saved a template, click on Choose template. A list of the organization templates will pop-up. Choose the template of your preference.
2. Import template
To create a template use the following steps.
i. Click on the Import template icon.
ii. Download the Excel file and paste your content to our template accordingly.
iii. Save and close the template.
iv. Drag & drop the template to the upload pop-up window. The import template workflow will show if any problem arises. Once all problems have been taken care of, a first preview is displayed and the template is ready for import.
v. To save the template as an organization template, tick the 'Save as organization template' box and give the template a name and optionally add a description.
For a more extended explanation, take a look here
Upload folder structure
If you created an empty folder structure offline, or have gathered some, most or all the files in a folder structure offline, you can select the Upload folder structure button to upload all the folders at once.
Note: To experience a smooth upload make sure you perform the upload from your local disk. Visit Upload folder /file to learn more about performing this action.
Create list manually
As an Admin you can create a collection from scratch by adding items manually. In this option, you simply need to create the first folder and from this point on, you can create additional folders and subfolders. Read here about the actions you can perform in the everything to know about these actions in the next section.
Note: Be aware that only Admins are able to create new data collections.