Split view in Workspace
How to use the split view in Workspace
The split view is a new feature in Workspace which makes your process of restructuring your data collection a lot easier.
You can select two of your data collections to work in at the same time. Move and restructure folders and – or files from the one to the other without losing overview and speed.
Things to know about the split view:

You can also create a new data collection whilst working in the split view besides only selecting an already existing one.

If you close the split view in the top righthand corner, you will be redirected back to the data collection you started with.

All features work the same in split view as they do in the original data collection view; statuses can still be set and altered, assigning tasks can be done too.

The top bar in the split view shows but 4 options, where the data collection overview shows you 8. The split view only shows "Add folder", "Collapse all", "Expand all" and "Filter".

The options Upload, Export, Index report and mass rename are not visible here.

In the split view, using the three dots on the side of every folder/file also gives you all the same possible options as in the data collection view.

It is not possible to use the same two data collections just to make restructuring this one collection easier.
How does it work?

Open the split view overview on the left side of your screen and select your two desired data collections to work in from the drop down menu on top. From here, you can structure your way trough the data collections, moving folders and files from one to another. Add folders as you go and create the ultimate data collection.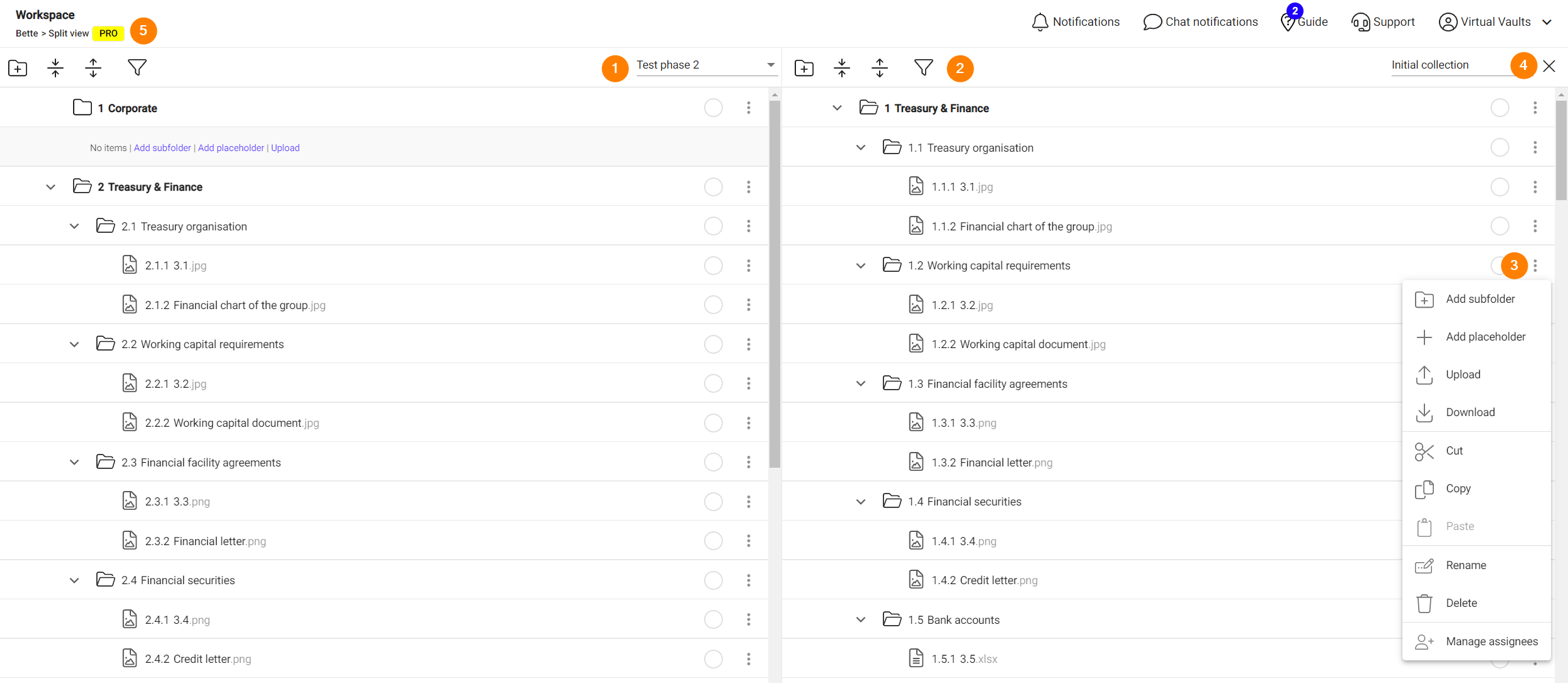 1. Choose your data collection(s) from the drop down menu. Here, you can also find the possibility to create a new data collection ad hoc.
2. Use some features in your data collection to get a good overview. Use filters, expand your collections and create new folders.
3. Click on the three dots on the side of any folder/file and you will be able to perform any of the actions possible in the data collection.
4. Close down the split view with the X and return to the data collection you started in.
5. This will become a Workspaces Plus feature.