Organization owner
What is an Organization Owner and how to change Owner?
The person who created a new Organization within Virtual Vaults, will automatically be appointed as the Organization Owner. Some additional features will be available to the Organization Owner that other users within the Organization won't have.
What can else can the Organization owner do?
1. The Organization owner is the only one who can delete other users from the Organization. Normal users can always delete themselves from an Organization.
2. Update the billing information. The Organization owner is also the only one who can manage and update the Organization's billing information. Financial contact person, subscription plan etc.
3.

See every workspace in the Organization. Unlike normal Organization users, who can only see the Workspaces they have access to, an Organization Owner sees every Workspace created within their Organization. Also those they don't have access to. This does not mean they can actually access it; only an overview is displayed.
As you can read above, the Organization Owner has a pretty important role in our platform.
It is important this user can fully commit to this task, in case something needs to be arranged. But what if the Organization Owner and for whatever reason is no longer able to carry out this task? You would have to change the Organization Owner.
The Organization owner can do this via the Organization tab in My Virtual Vaults. In the steps below it is explained how this can be arranged.

Pay attention to the following when you want to change the Organization Owner:
Only users in the Organization users list can be appointed as new Owners.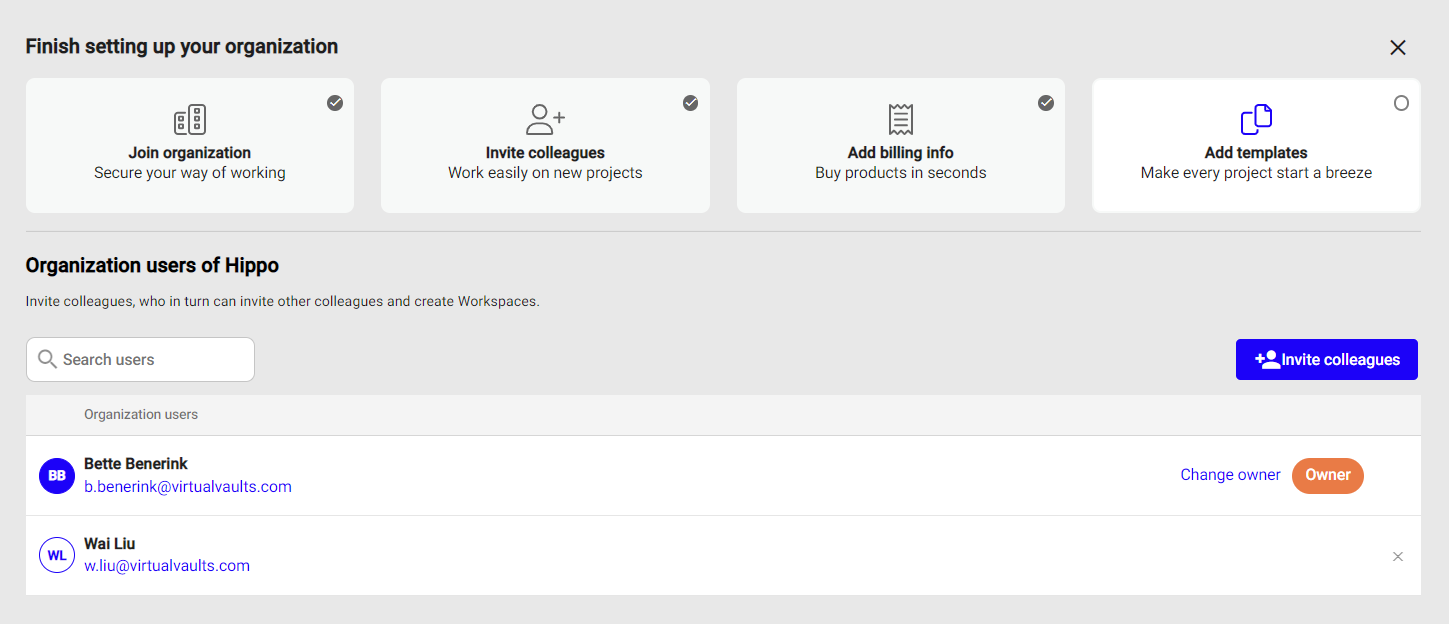 By clicking Change Owner the following screen will pop-up in which you can choose a new Organization Owner from the list of colleagues already invited to your Organization.