Create your own Organization
Setting up your Organization
Congratulations! You have received an invitation from us to create your own organization. By creating an organization, you and your colleagues can use the latest addition to our platform: Workspaces.
How to create your own organization?

1. You have received an email that looks like the one below: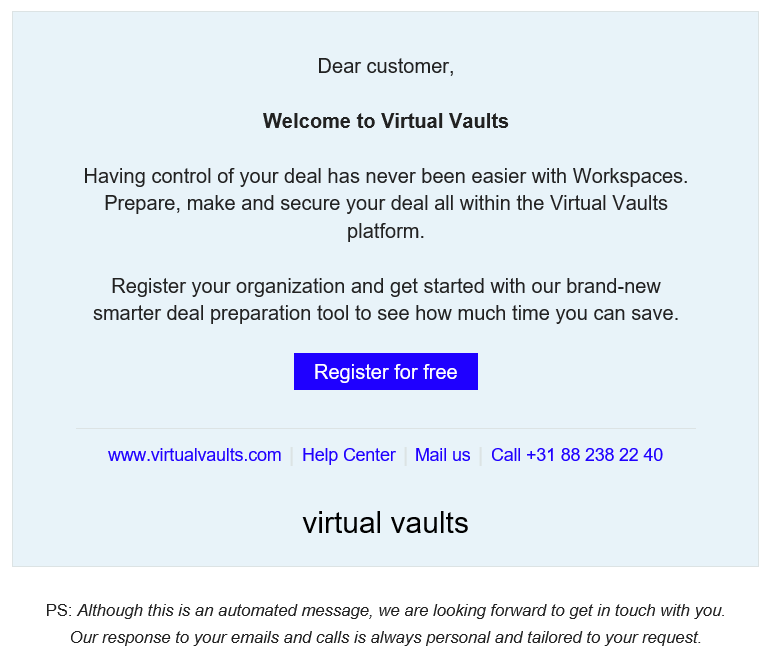 2. Click on Register for free to get started. After registering or logging on to the Virtual Vaults platform, you will land in the following introduction screen: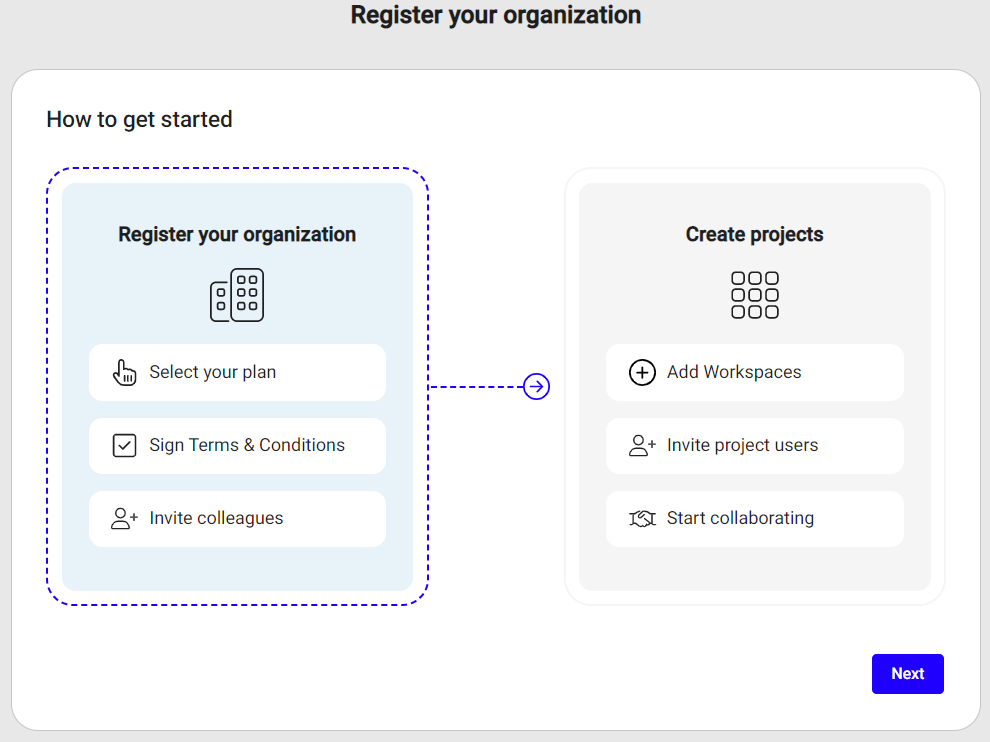 3. Click on Next and select your subscription plan.
Your plan includes several features to use in Workspaces but also the capacity.
4.

After selecting your plan you can read through our terms & conditions.
Check the box and click on Accept.
You can download a copy of these terms to your computer for safekeeping.
5.

Check the information for your Organization;
The name of your Organization - this will be prefilled by the Customer Success team of Virtual Vaults

Organization ID - the ID will be displayed in your organization's URL.

Your order summary - with your chosen subscription plan and included features.
6. Invite up to three colleagues to your organization, who can also invite other colleagues to the Organization and create Workspaces.
Additional colleagues can be added after creating the Organization.




You can select the option above if you want users with the same email domain, to be able to join your organization without permission.
Be aware! If you use a personal email address to create the Organization (Gmail, Outlook), this feature will not be supported!
7.

Click on Next. You will see your organization details, invitees and your subscription plan. Is everything as you wish and the information is correct?
Click on Register and your organization will be created!
Note: When you have created the organization, you will automatically be the primary Organization Owner. Click the link to read more about this role and what an Organization owner can do.