Drag and drop
How to change the index of your data collection?
To change the index of a data collection you can use the drag and drop functionality.
1.

Click on the file/folder and hold the mouse-button down.
2. Drag the desired file or folder to its new destination and release your mouse-button.

If you only want to reindex your (sub)folder, just drag the file/folder in between the items to move it or onto the first item to place it on top.


Above is an example of a folder that is moved within the same folder.

If you want to move your item to a different level, drag the file/folder up onto one of the folders in the same level and it will become visible to place it in between. Drop it and the index will automatically change.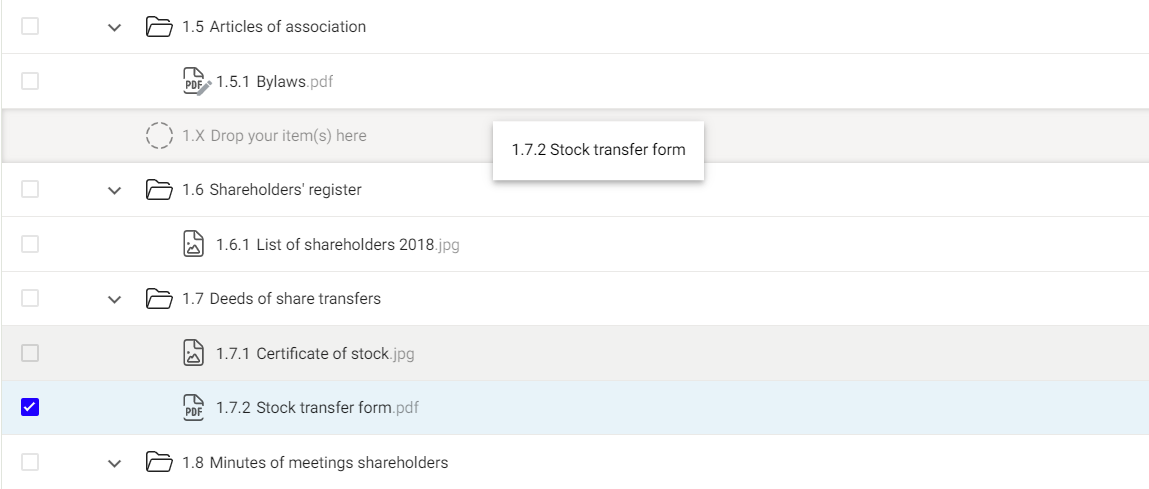 Above is an example of an item in a subfolder moved to the main level.

A light grey bar will appear once you have reached the correct drop zone. This bar displays the new potential index number of the file/folder; 1.7.X or 1.X and the text "Drop your item(s) here".
Tip: With the multi-select tool you can drag and drop multiple files/folders at once!